Local businesses are the heart of any community and the "Buy Local"/"Shop Local" movement, which began during the past recession, has been gaining momentum as municipalities as well as shoppers become more aware of how buying from independent business owners, as opposed to shopping online and at the big box retail chains, impacts their local economy.
Communities around the country have formed organizations and launched events dedicated to growing this awareness. The Buy Local Challenge was proposed by Frederick County, Maryland Office of Economic Development to encourage residents to purchase locally produced food items each day during Buy Local Week. By doing so, "in Maryland, if every household purchases just $12 worth of farm products for eight weeks, over $200 million will be put back into the pockets of our farmers."
According to CNN Money, Local First Utah, an organization formed by Salt Lake small business owners, teamed up with the American Booksellers Association to perform an economic impact study and they were able to demonstrate that 55.3% of revenue earned from locally-owned businesses goes back to the local economy versus only 13.6% from the national chains.
While internet sales did account for as much as $808.59 Billion in B2C sales in 2014, the internet has also afforded small business with an ever growing source of digital tools to reach consumers more effectively than they ever could before. Not only do these digital tools help business owners increase their visibility and brand awareness but by employing certain specialized marketing technologies, businesses can connect with customers on a personal level that eclipses Facebook events and email blasts and can help bring people through the doors.
With tools such as Geo-Targeting, Geo-Fencing, and Mobile Conquesting you can reach right into your local market using digital display advertising that targets not only by demographics, but also behavioral traits and you can do all of this within a particular radius.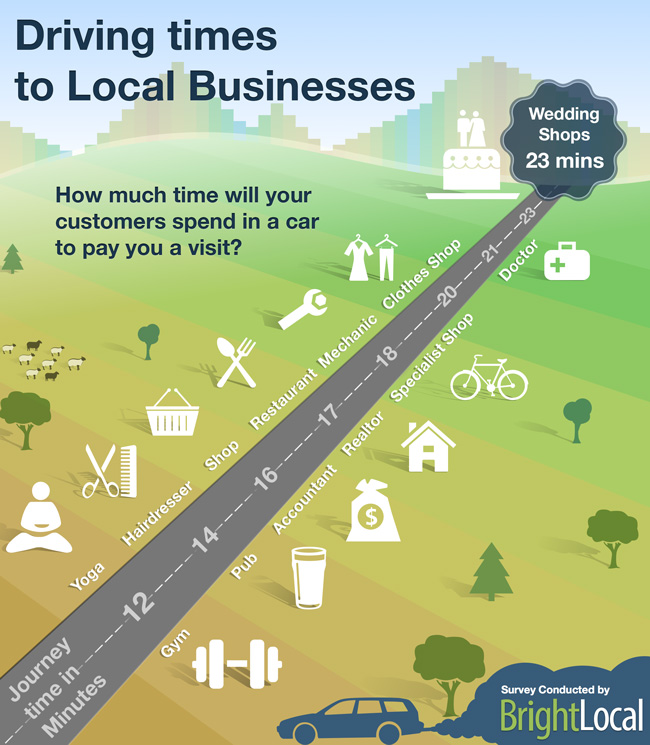 Bright Local produced a consumer survey that asked consumers how far they were willing to travel for particular products and services.
If you know how far your consumer is willing to drive you can draw a circle around consumers within that geography and deliver your ads to that target.
If you know that your ideal customers are attending a particular event, you can draw a circle, literally longitude and latitude coordinates, around that event and deliver your message to those attendees.
Remember that big box retailer we mentioned, you can even draw a circle around that particular business location and deliver an alternative shopping experience to consumers who walk through their doors as well as dynamically updated data that shows the user the exact distance they are from your location (as well as a map to show them how to get there).
Manning Media, a locally owned and operated business, is using location based targeting combined with demographic and behavioral targeting to reach local consumers with display ads on their mobile devices and we can help you improve your reach into the local market too.
Call us in Frederick at 301-620-7700, in Hagerstown at 301-733-4500 or fill out our online request form by clicking HERE!